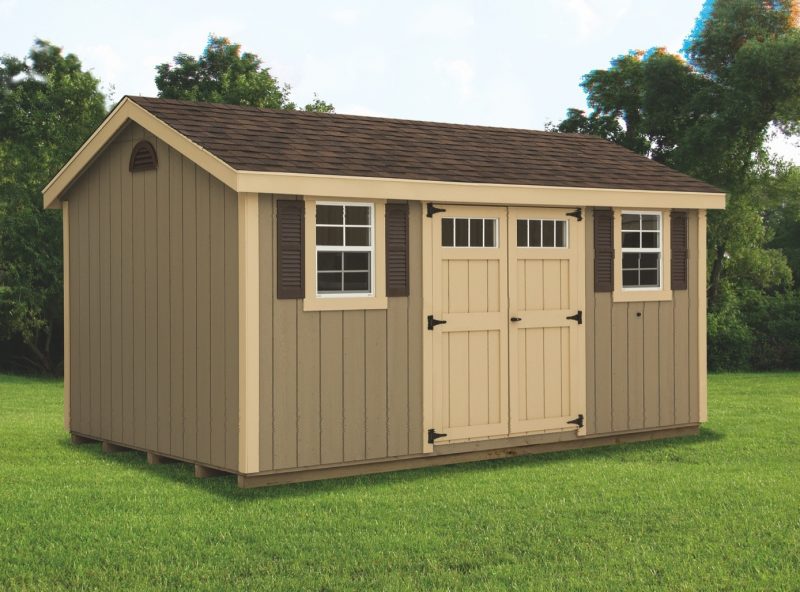 Upgrade with ease to the deluxe package
For only an additional 10%, make the standard cottage deluxe which adds the following features. You can still add more custom options to your cottage style shed.
Architectural Shingles
Two round top vents
Deluxe door & window trim and shutters
3 color combination
Deluxe Package offered with both the Vinyl and Painted Cottage models.
Contact Us About This Building
PRICING FOR DELUXE PACKAGE COTTAGE
Size
(Ft.)
Vinyl
Deluxe Siding

Painted




Deluxe

Siding

Steel
Roof & Siding
8×8
$4,768
$4,262
$3,295
8×10
$4,951
$4,447
$4,518
8×12
$5,088
$4,584
$4,724
8×14
$5,398
$4,901
$4,938
8×16
$5,614
$5,118
$5,166
10×10
$5,032
$4,532
$4,369
10×12
$5,392
$4,895
$4,729
10×14
$5,816
$5,324
$5,113
10×16
$6,329
$5,842
$5,538
10×18
$6,845
$6,364
$6,000
10×20
$7,350
$6,872
$6,505
12×12
$6,032
$5,415
$5,367
12×14
$6,736
$5,832
$5,913
12×16
$7,219
$6,275
$6,519
12×18
$7,798
$6,750
$7,194
12×20
$8,365
$7,205
$7,940
12×24
$9,558
$8,124
$8,788
12×28
$10,735
$9,035
$9,690
12×32
$11,916
$9,959
$10,713
12×36
$12,704
$10,914
$11,848
14×20
$9,115
$7,911
$8,906
14×24
$10,356
$8,491
$10,097
14×28
$11,756
$10,044
$11,454
14×32
$13,043
$11,105
$13,001
14×36
$14,326
$11,882
$14,346
14×40
$15,731
$13,243
$15,834
16×24
$11,730
$10,984
$11,632
16×28
$12,899
$12,078
$13,091
16×32
$13,938
$13,174
$14,164
16×36
$15,421
$14,423
$15,472
16×40
$16,797
$15,719
$16,950
16×44
$18,182
$16,906
$18,259
16×48
$19,683
$18,356
$19,908