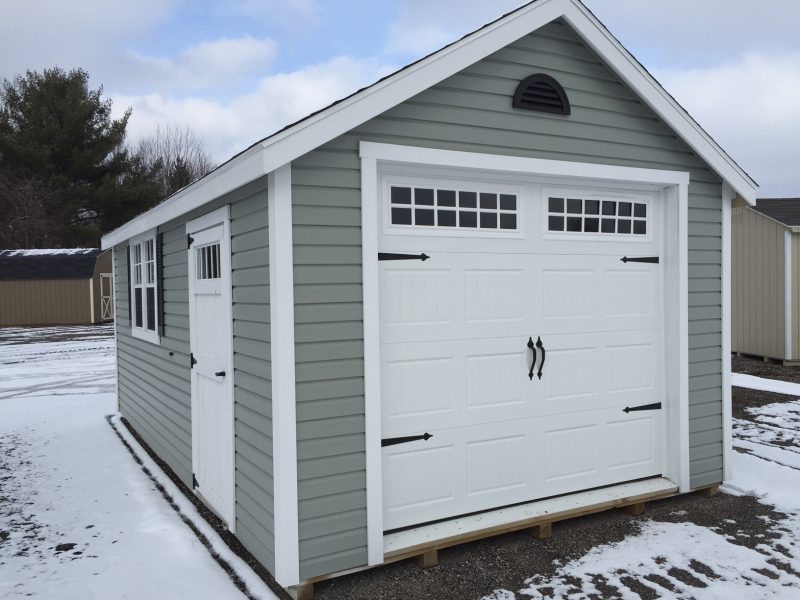 A shed that mixes some fun with purpose and low maintenance
Mix a little "New England" feel into your property with a Cape Cod style storage shed. Like most of our structures, this multi purpose structure is easily used for what ever it may be you want: an office, man cave, she shed, or even as a place to store your lawn mower and tools! With virtually zero maintenance high quality vinyl siding and the highest quality components, your Cape Cod will last for years and years. Customize to match your home and other structures with many options. This offsite building will definitely be a "special" addition to your property!
Standard features are listed below, but don't forget that you can add your custom options too. Or make it a deluxe package easily for only 10% increase in cost.
One Double Door
7/12 pitch roof
Two 21″x27″ single hung windows with screens & shutters
5/8" Plywood Floor
12" O.C. Treated Floor Joists
16" O.C. Wall Studs
Shingled Roof
7' Sidewall
Contact Us About This Building
PRICING FOR VINYL CAPE COD
Size
(Ft.)
Vinyl
Siding
Steel
Roof & Siding
8×8
$4,624
$3,884
8×10
$4,816
$4,456
8×12
$5,020
$4,593
8×14
$5,383
$4,801
8×16
$5,611
$5,288
10×10
$4,994
$4,612
10×12
$5,336
$5,080
10×14
$5,747
$5,392
10×16
$6,252
$5,964
10×18
$6,763
$6,380
10×20
$7,204
$7,160
12×12
$5,862
$5,600
12×14
$6,224
$5,964
12×16
$6,698
$6,432
12×18
$7,160
$6,848
12×20
$7,610
$7,420
12×24
$8,566
$8,460
12×28
$9,421
$9,292
12×32
$10,438
$10,384
12×36
$11,372
$11,372