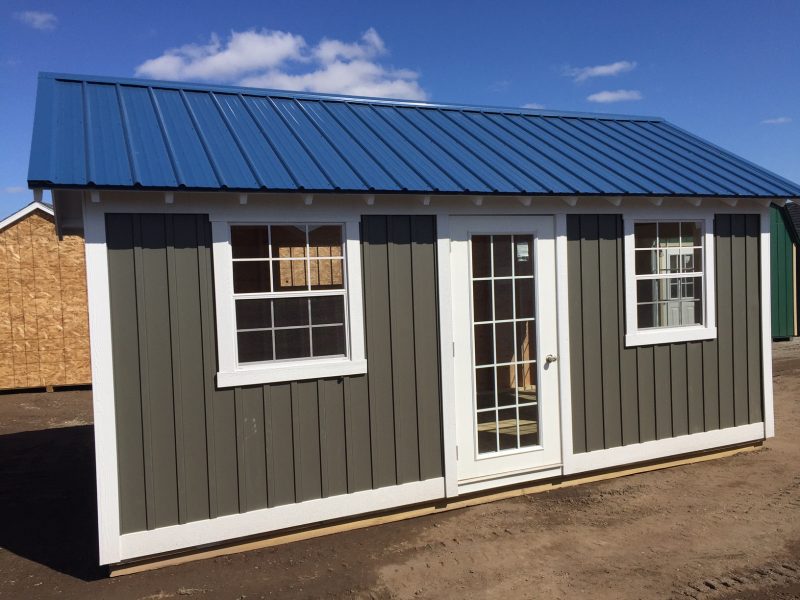 Vinyl garden studio – an elite offsite building
The Garden Studio is one of the most amazing offsite buildings you'll lay eyes one. Make it a playhouse, she-shed, or man cave – make it whatever you want, because the timeless, classic and upscale look of the Garden Studio will be a great fit no matter what you choose to use it for. You'll love the metal roof, painted interior, and exposed rafters. Truly a unique design that you'll love so much you may want to move right into it. Customize one to add charm to your property.
7/12 pitch roof with 84″ sidewalls
Choice of vertical board & batten VINYL siding with 6" wide Miratec baseboard and topboard.
Contact Us About This Building
PRICING FOR VINYL GARDEN STUDIO
Size




(Ft.)

Retail

10×10
$8,849
10×12
$9,237
10×14
$9,718
10×16
$10,152
10×18
$10,842
10×20
$11,322
12×12
$10,101
12×14
$11,439
12×16
$11,880
12×18
$12,926
12×20
$13,863
12×24
$15,583
12×28
$17,428
12×32
$19,211
12×36
$21,305