Safe, Comfortable Animal Housing for Sale in Michigan
Whether you're raising livestock and need a secure, clean place for them to bed, or you want to create a canine resort in your backyard, we have all your animal housing needs covered. Protect them from predators and disease and give them warmth in the winter and cool shade in the summer—all with animal housing for sale by Mid Valley Structures.
The Types of Animal Housing for Sale by Mid Valley Structures
We've listened to you, our valued customers, and we've learned that these are the most in-demand animal structures in Michigan:
Because they are in high demand,
we sell these animal structures and deliver them all across Michigan.
Call or stop at one of our seven locations to discuss animal structures today.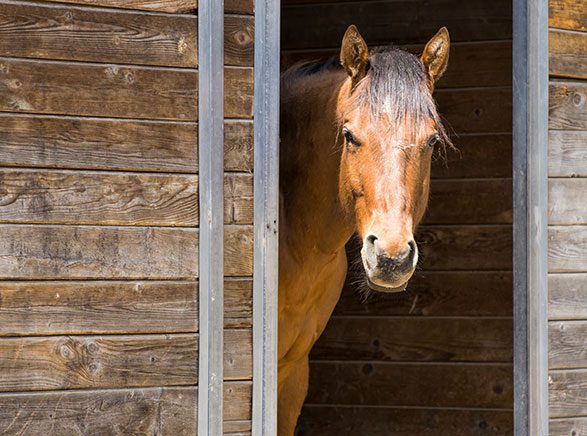 In Michigan, You are Required to Shelter Your Animals
The Michigan state government doesn't prohibit keeping animals outside; however, it says that "…you must at all times provide adequate housing and provision for that animal if it is being kept outside."
The animal housing for sale by Mid Valley Structures is adequate for protecting animals and can also be equipped with all the comforts of home. Some of our customers have provided heat, air conditioning, and automatic feeders and waterers for their animals in the structures they've purchased from us.
Have questions about equipping your animal structure with electrical service? We can help. Contact us today.
Other, Larger Options for Sheltering Animals
Do you have more than a few farm animals? Or would you like to store farm equipment and crops in the same barn or agricultural building as your livestock? We have options for you.
---
Metal Barns & Ag Buildings
A metal barn building, built to your specifications, can come equipped with sliding doors, overhead doors, walk doors, windows, your choice of roof, colors, and much more. Learn more about metal barns and see examples of metal horse barns and agricultural buildings in our metal barn gallery.
---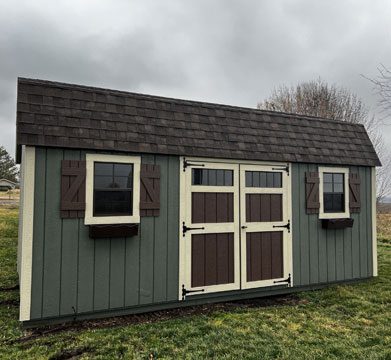 Custom Barns
If you'd prefer a more traditional barn, custom-built on-site to meet all your requirements, we suggest exploring our custom barn options and seeing examples in the barn gallery.
Delivery of Your Animal Structure
Do we deliver animal structures to Michigan? Yes—we deliver all the animal structures we sell across Michigan.
If we're delivering pre-fabricated animal housing or assembling your animal structure in a field we can drive the truck into, then delivery will be simple. If we're placing a chicken coop or dog kennel in your backyard where big truck tires could damage your lawn, we will bring The Mule—a forklift-type vehicle made for driving on lawns without damaging them. The most you'll see are tire tracks like you might from a big riding mower.
Have questions? Consult our installation and construction guides and our answers to frequently asked questions. Want to know more about delivery? Please get in touch with our knowledgeable staff.
Rent to Own Your Animal Structure
If your animals need shelter NOW, but you don't have cash, don't worry! We've got you covered with affordable rent-to-own financing. No credit check is required, and we'll move it through quickly so you can provide your livestock or pets with the shelter they need. Contact us for more information.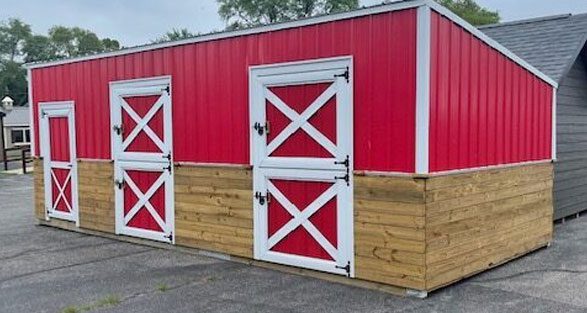 Much More than Animal Housing for Sale
Chicken coops, dog kennels, and horse run-ins are only part of our backyard structures line. We also supply the following so you can make your property into the oasis you've been dreaming of:
How about storage? Can you ever have enough of it? Get organized, clean up your backyard, and protect the things that matter most with our custom buildings and metal buildings:
As you search the internet for "animal housing for sale in Michigan," know that Mid Valley Structures' team has unmatched knowledge and experience in this industry. You can count on working with the same team from start to finish—no subcontractors, no freelance delivery drivers. That means we take ownership of our products and service, so you can feel good about taking ownership of our structures.