Visit Mid Valley Structures to See Sheds for Sale in Birch Run, MI
When you stop in at the Birch Run, MI, location for Mid Valley Structures, you'll find more than sheds. You'll meet a representative who's eager to show you all the options available to you, including barns, garages, carports, RV storage, cabins, and many more. See our sheds for sale in Birch Run, MI, today!
Shop for Backyard Sheds, Pool Houses, and More in Birch Run, MI
If you're in eastern-central Michigan or Saginaw County, make it a point to stop by our Birch Run location, where you can learn more about our outdoor structures, animal housing options, and lawn furniture.
Mid Valley Structures
10252 East Birch Run Road
Birch Run, MI 48415
---
Six Additional Michigan Locations
If Birch Run isn't close to you, perhaps it would be more convenient for you to visit one of our six other Michigan locations:
When you arrive at our Birch Run, MI, location, our staff will meet you with answers to your questions about metal buildings, backyard structures, custom buildings, and the sheds for sale in Birch Run, MI. We'll also take the time to talk about rent-to-own financing, construction and installation, and whatever else you'd like to discuss.
Stop by to see our sheds for sale in Birch Run, MI, today!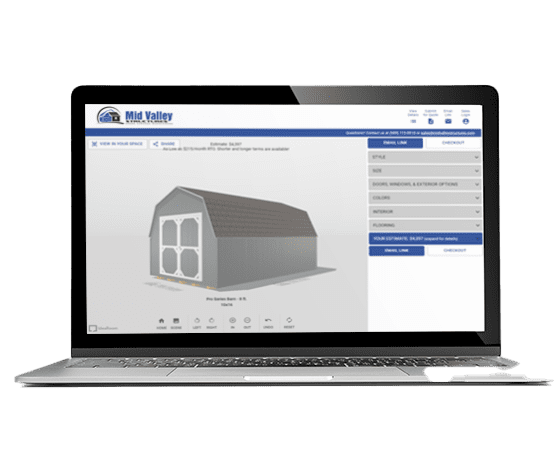 Start Designing Your Shed or Structure Right Now
How great would it be if you could design every aspect of your backyard structure from the convenience of your own home? We give you that ability right here! Simply click on the link below and get ready to create a structure that has every feature you've been dreaming of—and maybe even some you hadn't considered. You can get started right away!