Find a Metal Barn to House Animals, Crops, Equipment, and More
When it comes to agriculture, buildings are crucial to the health and comfort of your livestock and the protection and preservation of your crops and equipment. You'll find the metal barns for sale by Mid Valley Structures to be affordable, customizable—and ready to stand up to harsh Michigan weather.
Get to Know the Metal Barns We Sell
Whether it's a small metal barn for a few animals and added storage space or a colossal metal barn with many sections and large storage capacity, you can count on it being constructed from steel that will tolerate everything a busy farm atmosphere can throw at it.
If you need a dry place to store crops, a safe and secure building for your animals, or protection and storage for your farm equipment, a metal barn has you covered.
---
Replace a Traditional Wood Barn at a Fraction of the Cost
Not only do metal barns come at a lower initial purchase price, but the prefabricated components also allow for quick, easy construction (which reduces labor costs) and require less maintenance over their lifetime.
A Metal Barn from Our Carport Line—The Most Economical Option
Place your metal barn order with Mid Valley Structures, and you can choose to fully enclose one of our carport models for an agricultural building option that's incredibly affordable.
Choose a bent-bow, vertical, or horizontal roof. Next, select 12-gauge or 14-gauge construction. And then decide on your window(s) and door(s), choose your colors, and you're in business.
For more details, see our carports page.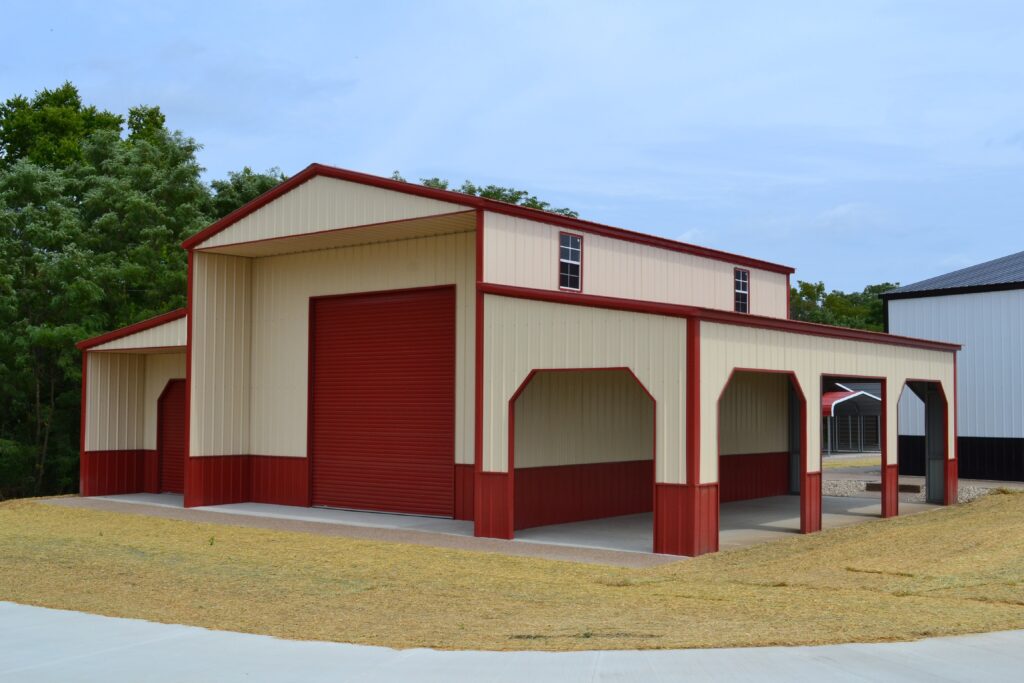 ---
If a Metal Barn isn't Exactly What You're Looking For…
Then you may be interested in our custom-built barn category. Get a no-cost design consultation, and select from the following options, among others:
The Size—How Much Will You Need to Store? How Many Rooms?
Door Configuration—How Many? What Type? What Sizes?
Foundation Type—Limestone, Block, Post Platform, or Concrete?
Prefab or Built Onsite—How Large Will it Be? Will Access Be Simple?
Barn Style—Traditional Barn Style or a More Modern Look?
Siding—What Color and Type Will Give You the Look You Want?
Roofing—Which Material Will Best Suit Your Requirements?
Roof Pitch—How Important are Snow Removal and Overhead Storage?
Windows—What Type? How Many? What Size? Placed Where?
Colors & Trim Styles—What Overall Aesthetic Will Your Barn Have?
Get more information about custom-built barns, or contact us to discuss how we can make your perfect custom barn dream come true.
Still trying to decide what type of barn is right for you? That's a great reason to check out our barn photo gallery for inspiration.
Find Agricultural Buildings in Our Animal Housing Line
Maybe a large, fully enclosed barn isn't exactly what you need. Perhaps a horse run-in or three-sided livestock shelter will better suit your purposes. When you order a horse structure from us, you can choose to add a center wall, a tack room with door(s) of your choice, boxstall bars, skylights, gate(s), window(s), and more.
See the animal housing we offer, including chicken coops and dog kennels—and don't forget to visit the animal housing gallery for photos of our products.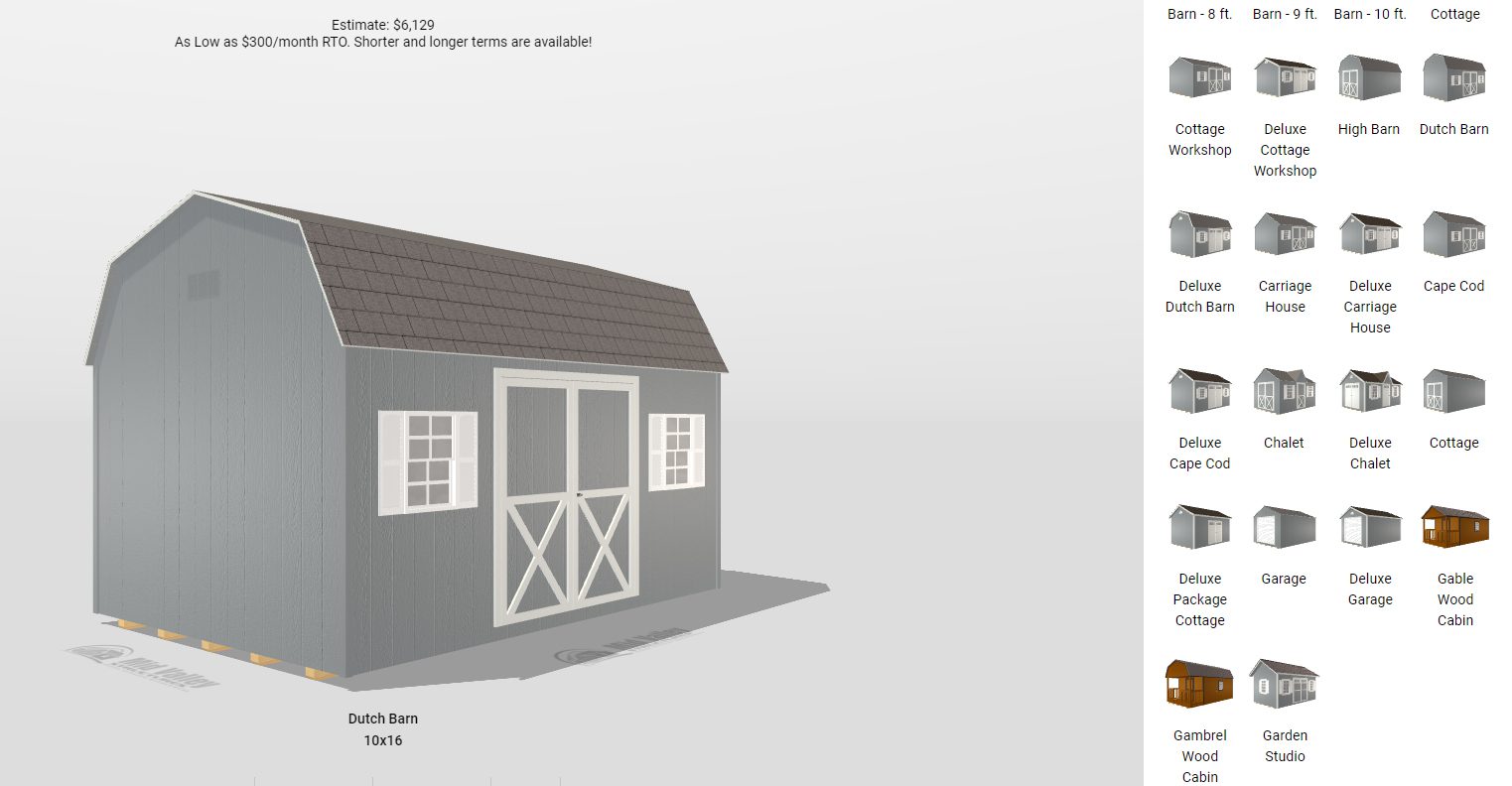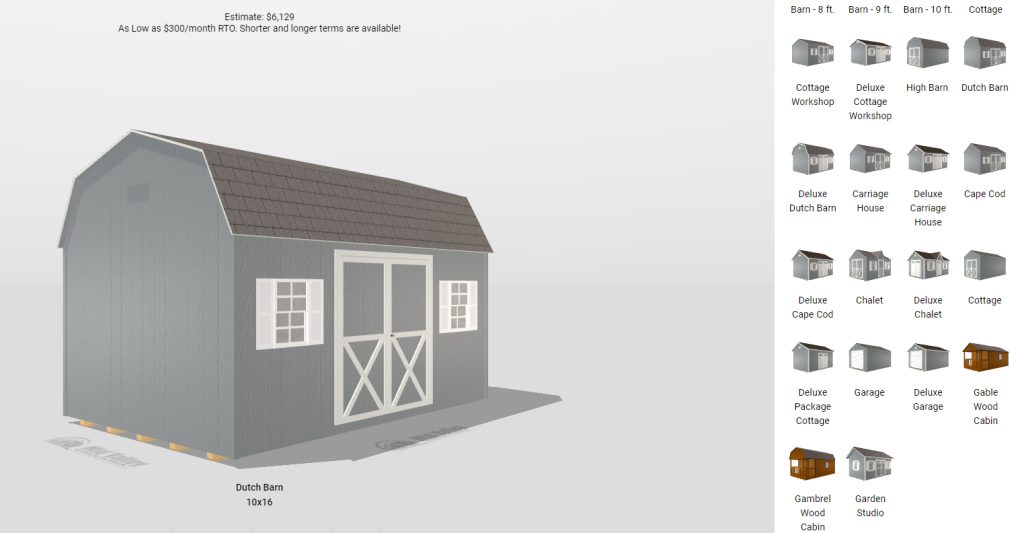 Barn-Style Sheds from Mid Valley Structures
There's yet another option in the barn category—mini-barns or gambrel-roof sheds. Open our online 3D builder and choose the size, wall height, flooring, roof, construction specs, doors, and more.
More Types of Metal Buildings
At Mid Valley Structures, we carry an extensive line of products, including metal barns.
Other metal buildings we sell include:
And beyond metal garages and buildings, we also provide:
See everything we offer, including our large and small metal barns for sale, in the gallery, and be sure to try our 3D online design software. And don't forget that we have seven physical locations where you can see our buildings for yourself—and you're always welcome to contact us with questions or concerns or to place an order.