A Variety of Storage & Backyard Sheds for Sale in Gaylord, MI
Sheds are just some of the products we sell at our location in Gaylord, MI. When you visit, you'll be greeted by an experienced representative who's ready to help you find the garage, barn, carport, pool house, or custom building of your dreams. Stop by and see our sheds for sale in Gaylord, MI, today!
Lots of Backyard Structure Options in Gaylord, MI
In northern Michigan, you'll find wide expanses of wild country, inland lakes, golf, and an abundance of wildlife. But that's not all! You'll also find sheds and buildings to satisfy all your shelter, rain-or-shine entertainment, and storage needs at Mid Valley Structures' Gaylord, MI, location.
Stop by our Gaylord location to experience some of our structures for yourself:
Mid Valley Structures
1484 South Otsego Avenue
Gaylord, MI 49735
---
Six More Locations in Michigan
If you'd like to visit a Mid Valley Structures location, but you're not close to Gaylord, MI, don't worry—we have six more locations across The Wolverine State.
When you arrive, you'll be greeted by a team member who's eager to answer your questions and provide all the knowledge and guidance you need to choose a structure that will perfectly suit your needs. They can even tell you all about our rent-to-own financing options.
Choose from backyard structures, custom buildings, and many types of metal buildings. We look forward to seeing you and showing you sheds for sale in Gaylord, MI, soon!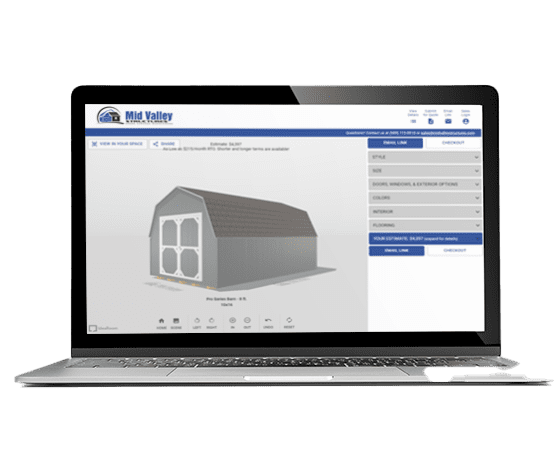 Choose Your Own Options from Home
If you'd like to stay at home and design a shed or building online for free, you're in luck! We have the software to make that possible. Get started with a click.