Fully Customizable Metal Carports for Sale in Michigan
Carports from Mid Valley Structures can be whatever you ask of them, thanks to many widths, heights, roof styles, colors, and other available options. Protect your car, boat, or RV, or create extra storage space with metal carports for sale by Michigan's premier carport dealer.
What to Expect When You Buy a Metal Carport from Mid Valley Structures
As you browse the metal carports for sale by our Michigan carport dealerships, you can rest assured, knowing that all the benefits you'd expect come standard:
Strength—steel that will endure harsh northern weather conditions.
Reliability—solid, quality construction that will stand the test of time.
Versatility—many options for a custom carport that meets your needs.
---
What are some of those options?
Open, Partially Enclosed, or Fully Enclosed Metal Carports
Your carport can be constructed without walls, with one wall, two walls, or fully enclosed, depending on how you intend to use the structure and how much protection you want to provide.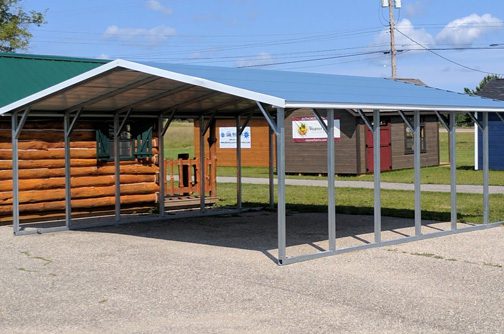 ---
Several Roof Styles to Choose From
Select the roof style for your carport according to your budget, aesthetics, or function.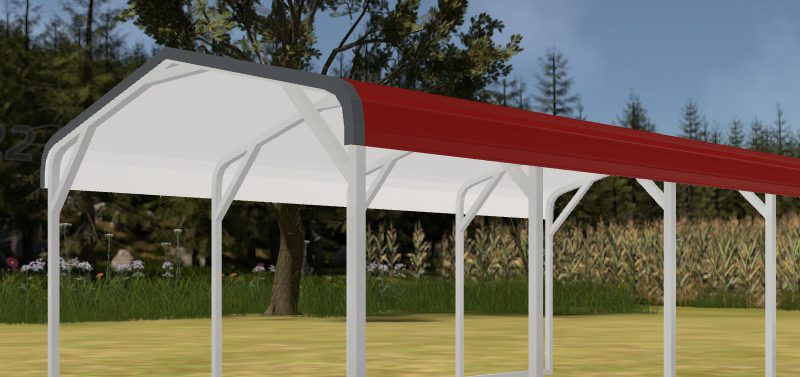 Regular Bent Bow Roof
Traditional Rounded Shape
Horizontal Steel Panels
Finished Edges with L-Shaped Trim
Most Economical
For Buildings 36' Long or Shorter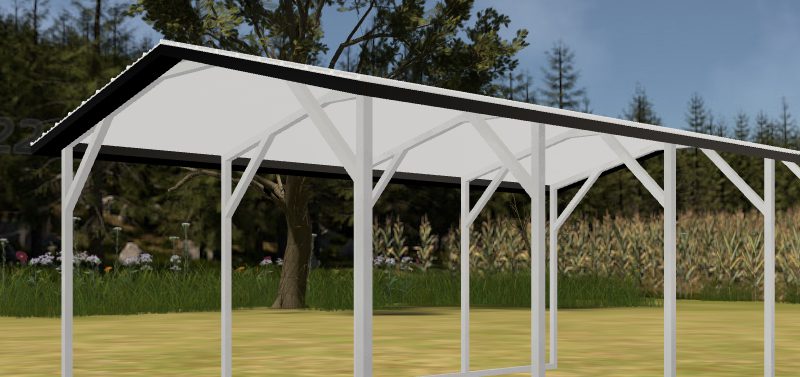 Horizontal Roof
Horizontal Steel Panels
Edges Finished with L-Shaped Trim
Sides Finished with Box-Eave Trim
For Buildings No Longer than 36.'
Symmetrical, Simple, Modern
A Popular Favorite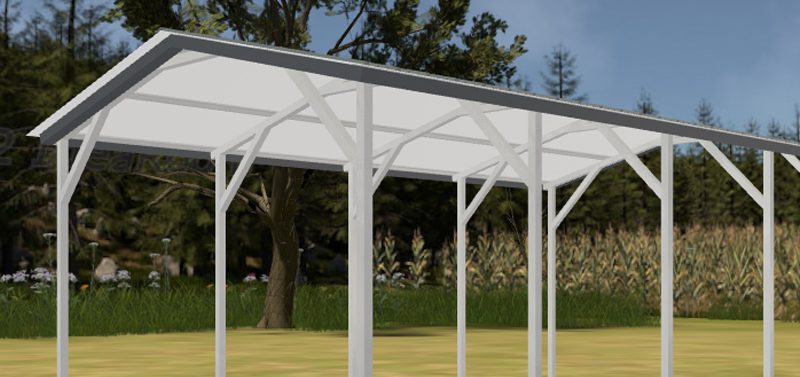 Vertical Roof
Steel Panels Run from Peak Downward
Easier Displacement of Rain & Snow
Ridge Cap Sealed with Black Foam at Peak
Vertical Above-Eave Trim on Entire Edge
Hat Channel Along Roof
Strongest Roof Style
Suitable for Buildings Longer than 36'
Metal Carport Frame Specifications
Whether you purchase a standard metal carport, an enclosed carport, a carport-style steel shed, or browse two-car carports for sale by Mid Valley Structures, you'll have the following frame options:
14-Gauge Steel Construction: 2 ½" x 2 ½" is the commonly purchased frame thickness for the carports we sell.
12-Gauge Steel Construction: 2 ¼" x 2 ¼" diameter frame has a higher tensile strength and is recommended for areas subject to heavy snow or high winds (or when the carport is 10' tall or higher).
Walk Door Options for Enclosed Metal Carports
The 32"x72" and 36"x80" solid and diamond-window walk-in doors on our enclosed carport buildings are designed exclusively for metal buildings. These doors are pre-hung on a welded aluminum frame and are made in the USA, UV-coated, pebble-textured, and insulated with polyurethane foam.
Or you may choose the 34"x76" nine-lite premium steel door for rust resistance, minimal maintenance, and enhanced curb appeal.
Why Buy a Metal Carport from Mid Valley Structures?
When you purchase from us, there will be no question about who will deliver or install your carport because our team handles everything.
Knowledgeable Staff
We answer all your questions because we know the products we sell—inside and out.
Delivery by Our Crew
You'll find our in-house delivery and onsite assembly teams to be professional and conscientious.
Onsite Assembly
You'll never have to wonder if a building is too big to deliver because we'll assemble it onsite.
Financing Options
There's no need to put off that purchase. You can start the rent-to-own process today.
Custom Online Design
You can design your carport with our online 3D builder software. It's remarkably easy!
The Other Metal Buildings for Sale by Mid Valley Structures
Is an open carport not exactly what you're looking for? Would you like something taller? Or something more enclosed and secure? Then take a look at the other metal structures we carry:
And don't leave without looking at our Custom Buildings and Backyard Structures and seeing photos of our buildings in our gallery.
No matter your storage needs, we're ready to take your call and assist you with choosing the best building for your purposes. Get in touch today!