Quality Metal Boat & RV Carports for Sale in Michigan
What's the best way to store your boat, camper, or RV without having to pay storage fees? Purchase your own RV or boat carport or metal building to place on your property, of course. Choose from prefab or build-onsite options, with all the features you need to make it uniquely yours.
What to Expect When You Purchase an RV or Boat Carport from Mid Valley Structures
As you browse the boat and RV carports for sale by our Michigan metal building dealerships, you can feel good knowing you'll get all of the following:
Durable steel to withstand harsh Michigan weather conditions
Reliable, solid construction that will perform for decades
Many options to customize your building to suit your needs
---
Here are some of the options available to you:
Open, Partially Enclosed, or Fully Enclosed Storage for Boats and RVs
Your carport can be installed with no walls, with just one wall, two walls, or it can be entirely enclosed. You decide, based on your budget and how much protection and security you want.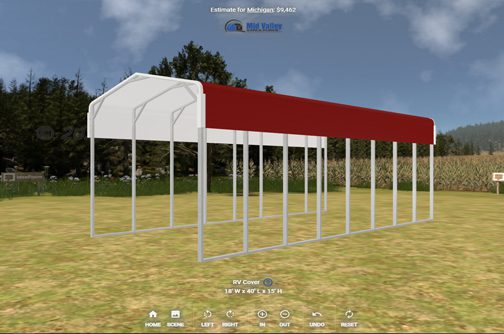 ---
Three Available Roof Styles
What's your budget? What's your preference for how you want your building to look? And what kind of durability are you expecting? The answers to these questions can help you to choose from the boat and RV carports for sale by Mid Valley Structures.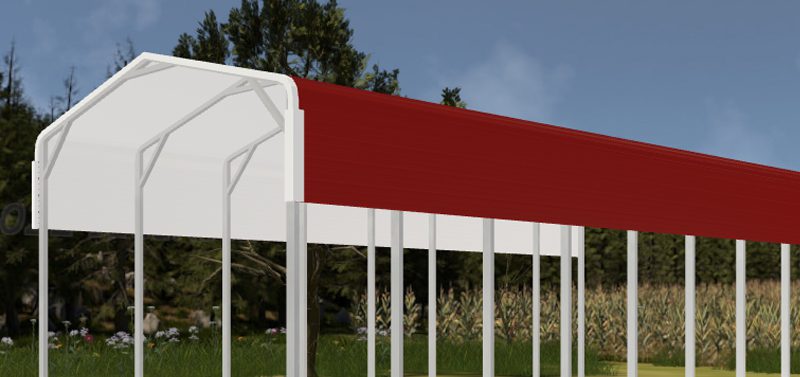 Bent Bow (Regular) Roof
Traditional Sloped Shape
Horizontal Steel Roof Panels
L-Shaped Trim on Finished Edges
Most Affordable
For Buildings No Longer than 36'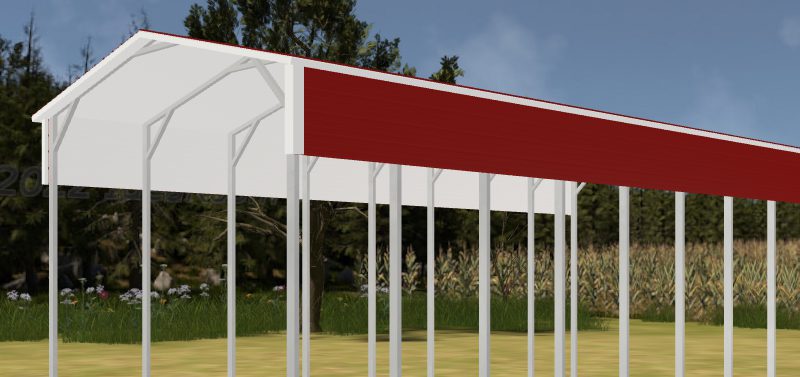 Horizontal Roof
Horizontal Steel roof Panels
L-Shaped Trim on Edges
Finished Sides with Box-Eave Trim
For Buildings with Maximum Length of 36.'
Simple, Modern, Symmetrical
A Popular Choice
Vertical Roof
Peak-Down Steel Panels
Effective Displacement of Snow & Water
Black-Foam-Sealed Ridge Cap
Vertical Above-Eave Trim on All Edges
Roof Hat Channel
Most Sturdy Roof Style
Suitable for Buildings Over 36' Long
If Your Building Will Include Walk Doors
The 32"x72" and 36"x80" diamond-window and solid walk doors installed in our enclosed metal buildings for RV or boat storage are:
manufactured specifically for metal structures
pre-hung on welded aluminum frames
made in the United States
pebble-textured FRP
UV-coated
polyurethane-foam insulated
Or select the 34"x76" nine-lite premium steel door for low maintenance, rust resistance, and architectural appeal.
The Benefits of Purchasing an RV or Boat Storage Structure from Mid Valley Structures
When you buy a building from us, you'll never have to wonder who's going to deliver or construct your building—because we handle everything from purchase through installation.
Experienced Staff
Our staff knows our products inside and out, so we'll answer every question you have and guide you through the entire process.
In-House Delivery Crew
Our delivery drivers care about your experience because you are a Mid Valley customer—and they're Mid Valley employees.
Onsite Assembly Crew
If you choose to purchase a structure that will be built on-site, you can rely on the know-how of our very own assembly team.
Rent-to-Own Options
There's no longer a need to wait to buy the building where you'll store your RV, camper, or boat. Apply for financing today.
Online 3D Design
Want to see all that's available while creating your own virtual building? You can do that—and then place your order using your design.
The Other Metal Buildings Available in Michigan
From our seven Michigan locations, you can shop our entire line of metal buildings. Or you can do it all online or over the phone.
Don't forget to check out our selection of Backyard Structures and Custom Buildings too! And visit the gallery to see our buildings for yourself.
Whatever your storage needs might be, rely on us to have affordable, versatile options to suit your needs.