Invite Entertainment and Relaxation with a Pergola for Sale in MI
Available in vinyl or wood, a pergola for sale by Mid Valley Structures will be the perfect addition to your property if you want to create a romantic garden retreat, a poolside oasis, or an architectural point of interest for your patio or deck. Customize it with color, post options, or an electrical package.
The Pergola: Enhancing Outdoor Charm Since 1400 BC
Pergola comes from the Latin word Pergula, which means Projecting Eave. The first pergola was constructed in ancient Egypt. Not to be confused with an arbor, a pergola is much larger, sturdier, and designed to be a gathering space.
Traditionally, pergolas were used to extend the outdoor living area of a building. In modern times, it's used to add shade to decks and patios or as a stand-alone garden feature. In addition, many people train woody vines through its open beams to provide even more ambiance and shade.
Is a pergola the perfect addition to your landscape? What about available sizes, styles, and price points? Get in touch with the pergola experts at Mid Valley Structures for answers to all your questions.
---
How to Use a Pergola in Your Backyard
Do you love the look of a pergola? But you're not sure how to incorporate it into your landscape design? Here are a few ideas based on how our customers have used these charming structures:
Join a pergola to the end of a porch or deck to add interest and an open, airy spot to congregate out of the direct sunlight.
Place it in a landscaped or hardscaped area as a focal point.
Use it anywhere you'd like to add some shade without blocking airflow.
Hang lights from the pergola for romantic or festive outdoor entertaining after dark.
Grow woody vines on your pergola, so it becomes a natural part of your garden or landscape. However, be cautious about the type of vine you choose; Virginia Creeper and Boston Ivy are just two examples of climbers that can leave residue or damage wood pergolas.
Add a ceiling fan to your pergola (ask us about electrical packages) to circulate air and make it more comfortable.
Add a firepit or outdoor fireplace for interest and atmosphere in the gathering space under the pergola.
Hang curtains from your pergola for more shade, privacy, and charm.
Need more inspiration? Don't forget to look at the pergolas in our gallery.
What to Expect When Your Pergola is Delivered
Does Mid Valley Structures deliver pergolas? Yes, we do!
After your site is properly prepared for the delivery of your pergola, our conscientious crew will deliver it and assemble it onsite.
Are you ready to choose your pergola and schedule delivery? Then, we're ready to take your call.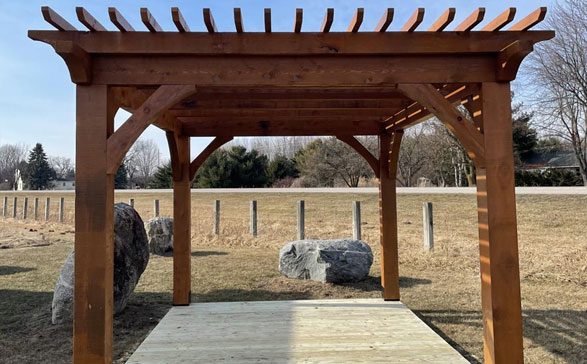 Low on Cash? Take a Look at Financing
Did you know that you may be able to finance your new pergola? Of course, you can pay with cash, check, or credit card, but we also want you to know you don't have to wait to add any backyard structure to your property.
Contact us for more information and to see if your purchase is eligible for financing.
Much More than Pergolas for Sale
Pergolas are just one type of outdoor structure you can add to your landscape. You can also have the following delivered anywhere in Michigan:
Are you in search of something you can use for storage? To protect vehicles or other property? Or to house animals? We have that, too, in our metal building and custom building lines:
Whether this is your first time considering the purchase of a pergola or you've been searching the internet for "pergolas for sale in Michigan" for some time, we have the answer. The vinyl and wood pergolas for sale by Mid Valley Structures are constructed using only high-quality materials and skilled, careful building practices—so you can count on enjoying it for many years.
Stop by one of our seven Michigan locations to see our structures and speak with a knowledgeable team member today.