Find Pavilions for Sale that Will Enhance Views & Raise Value
Whether it's a sizeable pavilion for a public park or a smaller one for your backyard, everything from wedding ceremonies and musical performances to family dinners and sunset watch parties is made better with pavilions for sale by Mid Valley Structures.
The Many Reasons to Add a Pavilion Structure to Your Landscape
Adding a pavilion to your property for aesthetic reasons makes perfect sense. After all, these structures are attractive additions to nearly any backyard panoramic view. Beyond that, pavilions also have lots of practical uses:
Protection from the Elements
Preservation of Grills and Outdoor Furniture
Definition of a Dedicated Outdoor Space
Increased Property Value
No More Cancelations due to Rain
If the advantages that a pavilion will add are just what you're looking for, see available options in our pavilion gallery.
---
What's the Difference Between a Pavilion and a Gazebo?
If you've been searching for gazebos for sale and landed here, you might be wondering if a pavilion is actually what you need. A gazebo is usually round or oval and placed in a backyard, park, or garden to add charm. It doesn't generally have the same amount of space as a pavilion and is typically enclosed by railings. A gazebo is more for appearance, while a pavilion is more practical (while still being just as attractive).
So instead of continuing your search for a "wood gazebo for sale," why not explore all that pavilions have to offer? We think pavilions have several advantages over gazebos, including the following:
More Available Square Footage
More Shade and Rain Protection
A Sustainable, Longer-Lasting Roof Structure
Timeless Beauty that Never Goes Out of Style
No Broken Railings—Because there are None
More Access to and from all Sides
That's just a taste of how a pavilion can outperform a gazebo. Want to learn more? Get in touch with our knowledgeable staff, and we'll answer all your questions.
When It's Time for Your Pavilion Delivery
After someone decides to purchase a pavilion, the first question is usually, "Do you deliver pavilions in Michigan?" Our answer is, "Yes, we do deliver!"
After that, we're usually asked, "Will my lawn be damaged during delivery?" We can honestly say, "No, your lawn will be left intact."
Our pavilions can be customized, built, and delivered to the spot you specify. Or larger structures can be constructed onsite.
Site preparation generally requires pouring a concrete pad—and we're happy to discuss those requirements with you.
If you've been combing the web for "pavilions for sale in Michigan" or "gazebos for sale in Michigan," your search is over. Mid Valley Structures has a selection of wood and vinyl pavilions that will amaze you!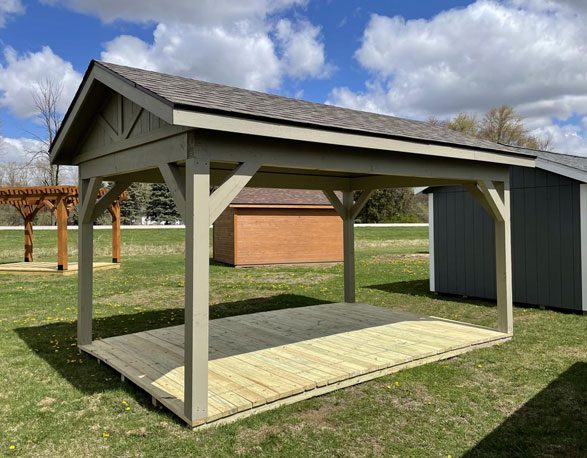 More than One Way to Pay for Your New Pavilion
Credit cards, cash, or check are always welcome. However, your payment options don't end there. Your pavilion purchase may also be eligible for financing.
Whether you pay now or over time, you can count on getting a reasonable price and a pleasant buying experience with remarkable customer service.
Whether this pavilion purchase is for your backyard, your business, or something for the entire community to enjoy, you can't go wrong with the pavilions for sale by Mid Valley Structures. Our customers have not been disappointed, and neither will you.
Much More than Pavilions for Sale at Mid Valley Structures
Pavilions are just one type of structure we offer to enhance your backyard experience. We also sell and deliver the following all over Michigan:
And if you're looking for something more practical than a pavilion—for storing equipment or vehicles or housing animals—we sell the following
custom and metal buildings:
As you can see, we have sheds for sale and much more at our seven Michigan locations. Stop in to talk to a knowledgeable staff member about how to get the building you want at the price you need.