Find a Metal Garage or Workshop with All the Features You Need
The metal garages for sale by Mid Valley Structures come in various types—so you can choose the one that fits your budget and your purposes. From enclosed carport-type garages to steel built-onsite garages, we have one that will do exactly what you need it to do.
Custom Metal Garage Buildings in a Variety of Styles
How many cars would you like to store in your garage? Will the building have other uses? Or will it strictly serve as a hobby space, workshop, or a place to entertain guests?
The only thing limiting the construction of your garage is your imagination. We're here with the color, style, roof, door, window, and spec options to make the project your own.
Contact us to discuss custom metal garages or create your own using our 3D online builder.
---
A Carport-Type Garage—The Most Economical Option
With Mid Valley Structures, you can fully enclose one of our carport models to create a more affordable garage option. Select a regular, horizontal, or vertical roof. Choose between 14-gauge or 12-gauge construction. Decide on the type of door(s) you'd like. Select your color(s) and more!
See our carports page for more details.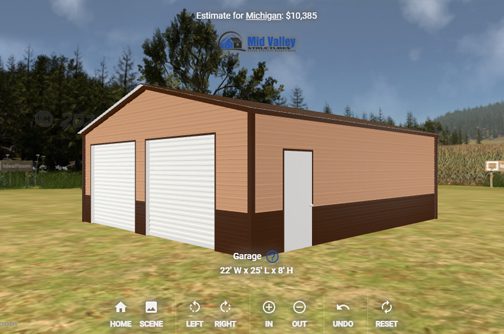 Not Sure a Metal Garage is Exactly What You're Looking For?
Then we suggest taking a look at our custom-built garage category. With a free design consultation, you can select from options including, but not limited to:
Overhead Door Configuration—One-, Two-, or Three-Car Garage
Foundation Type—Block, Limestone, Concrete, or Post Platform
Prefab or Built Onsite—Depending on Size and Ease of Access
Style—To Complement Your Home or Raise Your Property Aesthetic
Siding—For the Look You Want and Durability/Sustainability You Demand
Roofing—Based on Your Budget and How Long You Want it to Last
Roof Pitch—To Meet Storage Needs and Handle Snow and Rain
Windows & Doors—For Curb Appeal, Performance, and Ease of Use
Trim Styles & Paint Colors—For Resilience and Overall Appearance
You can learn more about custom-built garages here or contact us to discuss how we can build the perfect garage for you.
Still not sure what type of garage you'd like? That's a perfect reason to visit our garage photo gallery and get inspired.
The Other Types of Buildings We Sell
At Mid Valley Structures, we take pride in the metal garages and workshops we sell, but that's not all. We also supply all of Michigan with the following types of metal buildings:
And beyond metal garages and buildings, we also provide:
Check out all our offerings, including our metal garages for sale, see them in the gallery, and be sure to try our 3D online designer programs. And as always, stop at one of our seven locations or contact us for help choosing a structure or placing an order.