If you are tired of the clutter taking up every inch of your home or want a space to garden, craft, woodwork, or fix up your car, then an outdoor structure may be right for you. But you want to be sure that the Michigan shed company you choose can construct a building that can withstand the extreme Michigan weather. It also needs to be the right size for your space, blend in with your home's architectural style, and you need to ensure it won't negatively impact your neighborhood.
That's why you should turn to the #1 Michigan shed builder—Mid Valley Structures. We strive to provide the exact structure you want to meet your needs. Whether you are looking for a place to store holiday decorations, a pergola and poly outdoor furniture to relax and entertain, an animal structure, or something else, we can help you! You can choose from our pre-built sheds near you or get a custom quote for your desired structure. Start by learning more about what we do and shopping for our available sheds.
1. What Type of Outdoor Buildings Do You Sell?
We have you covered when you need a backyard shed, barn, garage, gazebo, or other structure. Whether you are looking for a storage shed for holiday decorations, lawn and garden tools, or other belongings or a steel garage to protect your car, we have plenty of options.
Each type of building we have available comes in various options, colors, and sizes, so you will surely get one that meets your exact needs. Choose from any of the following: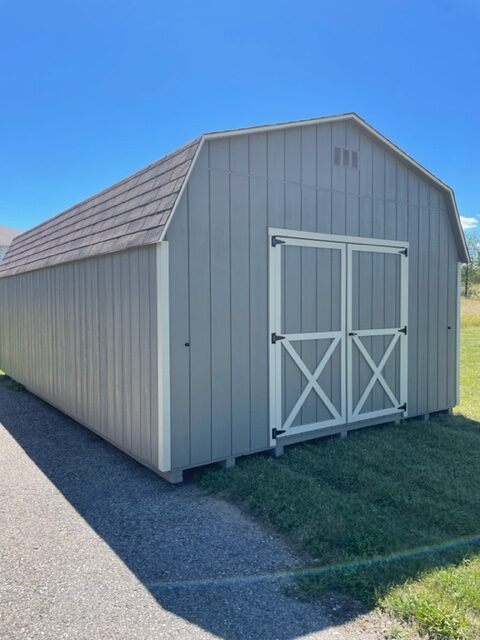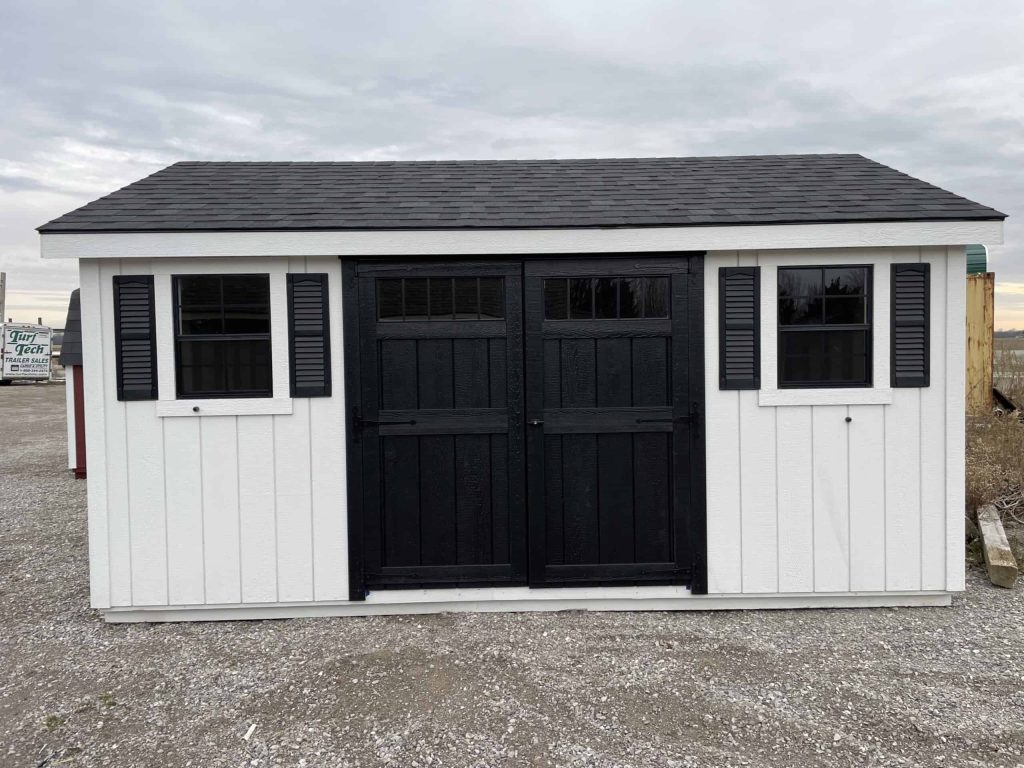 2. Can You Deliver My Shed to My House?
If you're looking for "pre-built sheds near me" and want them delivered to your home, you've come to the right place! You'll be glad that our Michigan shed company can deliver your Amish-style outdoor building shed without impacting your property too much. We can customize, construct, and deliver a shed, barn, or any other structure you require to your desired location.
As every property is different, site prep can vary depending on your property's landscape. However, we will work with you to provide instructions for site prep and ensure seamless delivery with minimal disruption.
To deliver your shed, we offer three methods based on accessibility:
Rest assured, with our easy and efficient delivery options, you'll get your custom-made shed with no fuss!
3. Do I Need to Pay in Full Up Front?
Because we are committed to serving our customers with the best Michigan sheds, we have flexible payment options catering to outright purchases and rent-to-own. Shopping for a new shed, barn, garage, or other outdoor structure can be daunting. But with us, you can trust that you'll receive a fair price and the best possible purchase experience.
Rent to Own
We partner with Great Lakes Rent to Own for our rent-to-own program. To apply, you have three options. You can apply online for quick and easy processing. You can also download the PDF of the application and return it to us via fax or email. Or, if you prefer to apply over the phone, contact us during business hours to take your application over the phone. The application process is straightforward, and we DON'T perform credit checks. Your social security number is the only requirement to verify your identity.
Buy Outright
Suppose you prefer buying a new shed, barn, building, or any other structure outright. In that case, you'll receive many benefits, including paying less over time, full ownership at the time of purchase, and no long-term contracts or agreements to manage or sign.
We make payment easy and accept credit cards such as Visa, MasterCard, and Discover. Payments can be made via phone by calling our hotline, and we're soon adding online credit card payment processing for your convenience.
4. What Customization Options Do You Offer?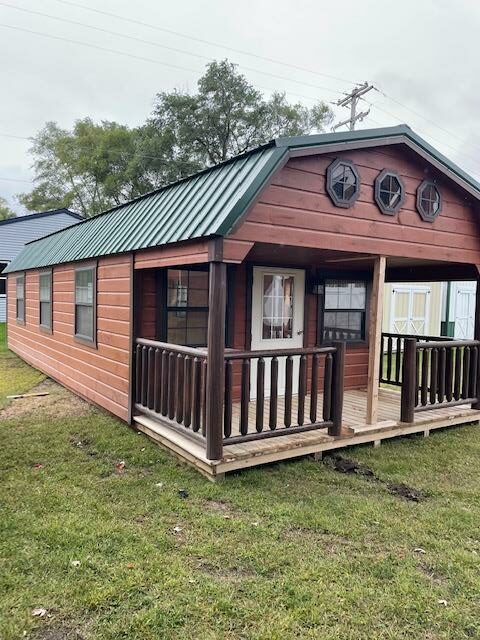 Whatever customization option you desire, we can likely meet it to your exact specifications! Try out our 3D Shed Builder to design the building of your dreams. Some of the options you can choose include:
5. What's Your Closest Location to Me?
We are a Michigan-based shed company and provide custom and pre-built sheds across the state. Please choose from one of our seven locations for your desired outdoor structure.
6. Will Your Products Be Able to Withstand the Harsh Michigan Weather?
Regarding outdoor structures in Michigan, durability and strength are important because of the harsh weather conditions. Our structures are built with materials of the highest caliber, ensuring they are sturdy and built to last. Whether it's a heavy snowfall or a strong gust of wind, our sheds, barns, and buildings can withstand anything the Michigan climate can throw at them. Using the best manufacturing techniques, we've created strong structures for years, no matter what Mother Nature has in store.
Our company aims to be the #1 supplier of high-quality outdoor structures in Michigan. We want our customers to be proud of their new shed, barn, or building for its practical use and aesthetic appeal. With countless styles and materials available, our structures will complement any backyard. From functional storage sheds to rustic barns, we have something for everyone. You can trust our team of experts to help you find the perfect fit for your needs and budget. Regarding quality, strength, and style, we are confident our structures are the best in Michigan and will exceed your expectations.
7. Why Should I Choose Mid Valley Structures as My Shed Builder?
Whether you're looking for a garden shed, lofted garages to use as a wood or automotive shop, a utility shed for extra storage space, a backyard cabin to use as a man cave or she-shed, or any other quality structure, Mid Valley Structures is the Michigan shed builder for you! We aim to provide customer service that is the best in the state and will be glad to help you get the quality Amish-type shed you want
We are located throughout the state and are ready to serve you in seven different locations—whether you live closer to Battle Creek, Ann Arbor, and Detroit or closer to Cheboygan, Gaylord, or Alpena. You can contact us online, by phone, or in person for a custom quote and to answer any questions you may have about your new structure.
Our high-quality team of manufacturers and builders leave no details overlooked, from ensuring your doors are attached and working properly to giving your shed the look you want. Start by shopping our available sheds or using our 3D shed or carport builder to build the exact structure you need. We'll help you create the yard or other outdoor area you've always wanted.
Resources: